---
Otmar Issing:
EMU remains an "experiment" with the outcome "likely to remain uncertain for a considerable time to come"
---
Europe's monetary union, which launched the euro almost a decade ago, remains an "experiment" with the outcome "likely to remain uncertain for a considerable time to come"
writes Otmar Issing, who served as the European Central Bank's chief economist for its first eight years
Ralph Atkins Financial Times, April 16 2008
In a book out today, Der Euro, recounting its launch and early years, Mr Issing says the euro "is historically unprecedented". While countries have surrendered control over interest rates to the Frankfurt-based ECB, they have retained considerable autonomy in other economic policy areas
Der Euro by Otmar Issing, publisher Vahlen Verlag, €34. English version to be published in September by Cambridge University Press
He suggests several scenarios for the future of the eurozone.
Countries could build on the euro's success and stability and secure the "full benefits" of a single currency by stepping up reform programmes and boosting economic flexibility, especially in labour markets.
It is also possible, Mr Issing argues, that the European Union "would progress further towards political union, without coming into conflict with the conditions necessary for a stability-orientated monetary union".
But an alternative outcome would be if the EU moved "in the direction of a welfare state with codified social rights, welfare entitlements harmonised at a high level and still-tighter regulation of the labour market".
In such circumstances, "the 'single-size' monetary policy would simply not fit at all".
External shocks and internal economic difficulties would hit job creation and growth and the ECB would be exposed to increasing political attacks.
Confidence in the euro would fall and the sceptics' predictions would be confirmed, he says.
"In such a scenario, the single currency would risk straining cohesion within the [European] community rather than fostering a sense of identification."
The "foundations" of the monetary union would be undermined, which would be a "disastrous outcome".
---
Jean-Claude Juncker, the EU's 'Mr Euro',
matters could get out of hand unless America took steps to halt the slide in the dollar.
Daily Telegraph 19/4 2008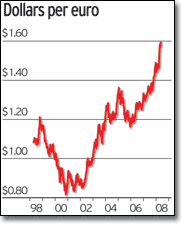 "The moment will come where the exchange rate level will start to cause serious harm to the European economy," said Mr Juncker.
While Germany and Holland have prospered under the strong euro, most of southern Europe and Ireland is in trouble. Current account deficits have reached 9.2pc of GDP in Spain and may touch 15pc in Greece. The European Commission's economists fear that the loss of competitiveness against Germany over the last decade may have passed the point of no return. At best, these countries face years of belt-tightening as their property booms deflate.
Motion till riksdagen 2007/08:K393
av Sven Bergström m.fl. (c)
Luxemburgs premiärminister Jean-Claude Juncker, som bejakar fördraget, tillhör de EU-entusiaster som trots sin positiva hållning kritiserat midsommarnattens överenskommelse. I en intervju i den belgiska tidningen Le Soir kommenterade han toppmötet:
"Huvudbekymret för somliga av mina kollegor runt bordet var att komma överens om ett fördrag som kunde antas utan folkomröstning.
Jag är förvånad över att man är rädd för sin befolkning".
---