---
European troops march in Paris on Bastille Day
---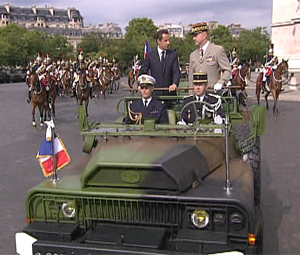 Troops from all 27 EU nations marched down the Champs Elysees in Paris,
at the invitation of new French President Nicolas Sarkozy.
European Commission President Jose Manuel Barroso, and other senior EU figures, were also welcomed, underlining France's commitment to Europe despite the rejection by French voters of a proposed EU constitution two years ago.
On the eve of the Bastille celebrations, Sarkozy reiterated his push for a Europe-wide defense.
"The basis for a European defense exists. We must make it grow," he said in a speech to European defense ministers and French military officers.
"I want Europe to be capable of ensuring its security autonomously."
Among those expected to join Sarkozy to watch the rest of the parade were Jose Manuel Barroso, president of the European Commission; EU foreign policy chief Javier Solana; European Parliament President Hans-Gert Poettering, and Portuguese Prime Minister Jose Socrates, whose country holds the rotating EU presidency.
Associated Press, Saturday, July 14, 2007 (Paris)
---
Comment by Rolf Englund:
Stupid to deny they are making a Superstate - or rather, a State.
---