IMF-pengar till Euron
Related: Europakten 2011

Finanskrisen - Eurokrisen
---
French and German banks reduced their exposures to these markets by some 30-40 percent
ECB has taken extraordinary action to protect monetary union with the LTRO and conditional OMT.
Unfortunately, fragmentation continues and remains debilitating.
A common safety net is another essential element.
This would involve common deposit insurance and common backstop.
The other union Europe needs to contemplate is fiscal union.
David Lipton, First Deputy Managing Director IMF, April 25, 2013
I have been asked to speak today to the topic of "Saving the Euro."
On reflection, that topic might have been more suitable a year ago,
before the euro area governments and institutions took important steps that gave us
some distance from that worst-case scenario.
The reality is that Europe still faces severe vulnerabilities that — if unaddressed — could degenerate into a stagnation scenario.
There is a deep ongoing recession in some periphery countries and weakness in the core.
Investment is declining, and unemployment continues to rise. Financial markets remain fragmented, undermining the transmission of monetary policy.
This contributes to divergence in private interest rates, and reduces access to credit, particularly for smaller enterprises.
Reform fatigue is setting in.
In our preoccupation with sovereign debt, we tend to overlook the huge overhang of private debt in some countries that could be a deadweight on demand and bank balance sheets for a long time.
French and German banks reduced their exposures to these markets by some 30-40 percent between mid-2011 and the third quarter of last year.
ECB has taken extraordinary action to protect monetary union with the LTRO and conditional OMT. Unfortunately, fragmentation continues and remains debilitating.
A common safety net is another essential element. It is needed to weaken bank-sovereign links by reassuring depositors.
This would involve common deposit insurance and common backstop.
The other union Europe needs to contemplate is fiscal union. That will surely take time, and further discussion by members to choose the precise end point.
Treaty change
The last big rewrite took the best part of a decade: the constitutional treaty was rejected by French and Dutch voters in 2005,
and its successor, the Lisbon treaty, had to be put to the Irish twice before passing.
Today, even assuming that Europe's debtors and creditors can agree, any revision could invite disaster.
Much of the euro zone is in a deep and prolonged recession,
and Eurosceptic parties of many stripes are on the rise in both north and south.
Charlemagne, The Economist print Apr 27th 2013
---
In its twice-yearly World Economic Outlook, IMF said the euro zone remains the weakest part of the global economy,
and warned that a long period of low growth in the currency area would weaken the potential for expansion in the neighboring economies
"The damage and the spillovers could be much worse if pessimism builds on pessimism and leads to a major cutoff of credit to periphery sovereigns
or if stagnation raises doubts about the viability of the EMU," the Fund said.
Wall Street Journal 16 April 2013
IMF said that in the near-term, the euro zone still poses the greatest threat to a recovery in the global economy, citing "the fallout from events in Cyprus" and political stalemate in Italy, as well as "vulnerabilities" among the weaker members of the currency area.
The Fund warned that the prospect of a long period without significant economic growth could spook investors, leading to a renewed threat to bond market access for governments in southern Europe.
World Economic Outlook, Hopes, Realities, and Risks, April 2013
Top of page
---
Protecting the eurozone at all costs is undermining IMF's validity
In the period from its inception in 1946 up until the financial crisis, the IMF broadly succeeded in its task of promoting financial stability and monetary co-operation.
So much so, in fact, that by 2007 many had begun seriously to question the organisation's continued purpose.
Was there really any need to keep all those highly paid economists in Washington DC,
when the capital markets were doing such an apparently splendid job in guaranteeing financial and economic stability?
Jeremy Warner, Telegraph 15 April 2013
With the advent of the credit crunch, the IMF briefly rediscovered its raison d'etre.
Momentarily distracted from carnal pursuits, the IMF's erstwhile managing director, Dominique Strauss-Kahn, set about galvanising an international response which was not without its early successes.
Here was a global implosion for which the organisation seemed to have been tailor made.
In becoming part of the hated "troika" which imposes apparently counter-productive austerity on weaker members of the euro, the IMF has badly discredited itself and by doing so is steadily undermining its validity on the wider international stage.
The IMF's starting point is that the euro is too systemically important to be allowed to break up. Like the larger banks, it has become too big to fail, and must therefore be propped up for fear of the wider economic damage if it went down in flames.
So along with the European Commission and the European Central Bank, it has become part of the hated "troika", imposing fiscal austerity and structural reform on weaker eurozone nations in return for handouts
Full text
---
Lagarde:
Väljarna största hotet mot EMU
Den största risken kring försöken att lösa krisen i eurozonen är en ökad politisk utmattning och
väljare som blir trötta på krävande ekonomiska omstruktureringar.
Dagens Industri 10 april 2013
---
The IMF was formed in 1944 to avert another Great Depression by lending money to troubled countries, but after decades of dealing mainly with the third world, the
IMF now devotes 83% of the money in its general-resources account - extended loans, in plain speak - to three limping European nations: Portugal, Greece and Ireland.
Time Magazine, April 8, 2013
Some economists even seem nostalgic for the days of Lagarde's predecessor, Dominique Strauss-Kahn, who resigned in disgrace after he was hauled into a New York City jail in May 2011 on charges of sexually assaulting a hotel maid. (The charges were eventually dropped.)
It was Strauss-Kahn who negotiated the IMF loans to Greece, Ireland and Portugal, using his credibility as an economist and his skill as a dealmaker to keep dissension in check.
At a conference of German bankers in Frankfurt on March 19, she /Lagarde/ zeroed in on one message: Europe needs a strict, E.U.-wide banking union, and quickly.
---
"substantially below" 110 per cent in 2022
Several of the elements remain unfinished, including a Greek debt buyback programme
Christine Lagarde, the International Monetary Fund chief, said her institution would not release its portion of the Greek bailout until the transaction was successfully completed.
Financial Times, 27 November 2012
The IMF had been holding out for a deal to get Greece's debt levels to 120 per cent of gross domestic product by 2020, a target that would have likely forced eurozone governments to make substantial writedowns on their bailout loans – something deemed politically explosive in creditor countries like Germany and the Netherlands.
In exchange for allowing a loosening in the target to 124 per cent, Ms Lagarde secured a commitment to get debt levels to "substantially below" 110 per cent in 2022
A visibly angered Mrs Lagarde, the managing director of the IMF, shook her head and rolled her eyes at the announcement that breaches the Washington-based fund's condition that Greek debt must become sustainable by 2020.
---
Euro-zone finance ministers meeting in Brussels this week have been unable to reach an agreement with IMF
on how to ensure that Greece's debt load comes down to manageable levels.
Germany and other European countries continue to reject a new debt haircut.
The standoff could become dangerous.
Der Spiegel, 21 November 2012
---
On Greece, Europe should listen to the IMF
Mohamed El-Erian, Financial Times, November 21, 2012
---
"You know, it's not over until the fat lady sings, as the saying goes," Ms Lagarde told reporters
when asked if she expected a deal to be forged at the meeting next week in Brussels.
Telegraph 16 November 2012
---
EuroCliff
Det budgetstup som alla; Tyskland, EU, Internationella Valutafonden IMF och andra ekonomiska pekpinneviftare är överens om att USA måste undvika till varje pris,
är precis det som flera av Europas länder redan knuffats ut över.
Den kur som sägs ta kål på USA påstås alltså kunna rädda Europa.
Andreas Cervenka, SvD Näringsliv 14 November 2012
Några exempel. Spaniens budgetunderskott skulle enligt order från övriga EU-länder minskas från 6,3 procent av BNP i år till 2,8 procent 2014.
I Portugal ska budgeten kapas med motsvarande över 3 procent av BNP bara under 2013 och i Grekland är besparingarna 7 procent av BNP under 2013 och 2014 varav det mesta ska tas nästa år.
Detta trots att budgetunderskotten alltså är större i USA.
Bland de som varit med och ställt upp dessa krav finns bland andra IMF.
Läs mer här
---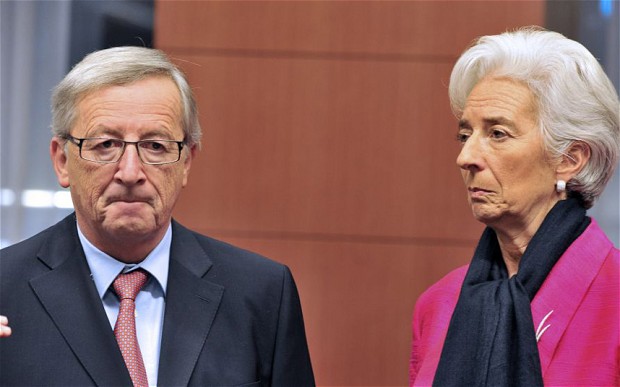 Jean-Claude Juncker, president of the Eurogroup of finance ministers, announced Greece would be given an extra two years to meet its debt reduction target of 120pc of GDP by 2022 instead of 2020.
"The target, as far as the time-frame is concerned, has been postponed to 2022," he said.
A visibly angered Mrs Lagarde, the managing director of the IMF, shook her head and rolled her eyes at the announcement that breaches the Washington-based fund's condition that Greek debt must become sustainable by 2020.
"We clearly have different views," she said. "In our view the appropriate target is 120pc by 2020. It is critical that the Greek debt be sustainable."
Financial Times via CNBC och Rolf Englund blog 12 November 2012
IMF wants Greece's creditors to forgive a portion of the country's debt,
a move which could cost Germany up to 17.5 billion euros.
It is partly for that reason that euro-zone finance ministers are in favor of extending by two years
the deadline for Greece to reduce its debt load to 120 percent of GDP from 2020 to 2022.
Der Spiegel, 14 November 2012
---
IMF's mea culpa is the "biggest financial story of the year"
Ambrose Evans-Pritchard, 14 Oct 2012
---
IMF
It is no secret why growth is slowing in high-income countries:
this is due to fiscal tightening, weak financial systems and powerful uncertainty.
This toxic combination is particularly threatening inside the eurozone, where, again no surprise,
countries reliant on exports are affected by the shrinking economies of big trading partners
Martin Wolf, Financial Times, 16 October 2012
In its relations with its most powerful clients, the International Monetary Fund possesses "the right to be consulted, the right to encourage and the right to warn". Walter Bagehot, the great Victorian economic journalist, gave this description of the role of the British monarch in the 19th century.
I applied this phrase to the role of the fund in a paper I submitted to its 2011 triennial surveillance review.
At the annual meetings in Tokyo, the fund fulfilled precisely this role. What matters, however, is that its members, above all, the US and Germany, act upon the warnings and encouragement they have received.
---
Armageddon i Grekland den 18-19 Oktober:
How much more pain can the people take?
BBC via Rolf Englund blog
---
We face a conjunction of three large events - the implosion of the debt-based finance-capitalism that developed over the past twenty years or so, a fracturing of the euro resulting from fatal faults in its design, and the ongoing shift of economic power from the west to the fast-developing countries of the east and south.
Keynes condemned Britain's return in 1925 to the gold standard, which famously he described as a barbarous relic.
Would he not also condemn the determination of European governments to save the euro?
Might he not think they would be better advised to begin a planned dismantlement of this primitive relic of 20th Century utopian thinking?
John Gray, BBC, 21 July 2012
---
Ingen eurokris i Almedalen?
Regeringen, med stöd av socialdemokraterna, förefaller ha som princip att i Bryssel uppträda som om Sverige vore medlem av eurozonen. Sverige har således utlovat uppemot miljarder kr till IMF avsedda för stöd till euroländer i kris.
Vi borde i stället följa den linje som England driver.
Lars Wohlin och Rolf Englund, 10 juli 2012
---
Mr Cameron said: "I can understand why eurozone countries may want to look at elements of banking union.
"Because we are not in the single currency, we won't take part in the profound elements of that banking union.
"I wouldn't ask British taxpayers to stand behind the Greek or Spanish deposits.
"It is not our currency, so that would be inappropriate to do.
The Independent 7 June 2012
---
Sverige är inledningsvis berett att ställa upp med 10 miljarder dollar, nära 70 miljarder kronor, till IMF,
säger finansminister Anders Borg enligt Reuters.
Maximalt kommer Sverige att bidra med 100 miljarder kronor.
DN/TT 17 april 2012
---
IMF still won't admit truth about the euro
Discussion will once again focus on the creation of a firewall big enough to provide for bigger eurozone bailouts, including Spain and possibly Italy, too. This misses the point, for it presupposes that the crisis is at heart just a confidence issue that can be solved simply by creating a backstop large enough to convince markets they cannot break the euro.
Jeremy Warner, Telegraph 16 April 2012
In fact, the underlying cause of the Europe's travails is much more fundamental – it is the euro itself, which is ripping the Continent apart in an uncorrected balance of payments and consequent debt crisis. European leaders have yet properly to face up to this inconvenient truth. Their project won't and cannot work in its present guise.
The US, knowing it could never get enhanced IMF support through Congress, has already said it won't contribute any additional funding, while even the UK is beginning to get cold feet. A previously compliant George Osborne does not believe the conditions he listed a little while back, not least a much bigger European rescue fund, have been met.
Despite the punishing mix of austerity and structural reform being imposed on the South, the idea that Europe's periphery can in time be made as competitive as Germany is just fantasy.
Europe can't accept that the economics of the single currency condemn it to failure
Det skriver Jeremy Warner i Daily Telegraph 12 April 2012
Felet är att eurozonens ledare inte vill inse att allt var fel från början.
Rolf Englund blog
---
The survival of the eurozone now depends on Italy and Spain.
They are the countries that are too big to fail – or to rescue.
Structural steps are painful for any government. They are devilishly difficult without growth.
Robert Zoellick, president of the World Bank, Financial Times 16 April 2012
---
Is the IMF already assuming Greek failure?
FT, Peter Spiegel, 19 March 2012
On Friday, after much of Europe shut down for the week, the International Monetary Fund issued its 231-page report on Greece's new €174bn bailout
The fund notes that more austerity measures totalling 5.5 per cent of economic output – or about €12bn – must be found in the next three months to close gaps in Greece's budget for next year and 2014. Without those cuts, the IMF warns, it's ready to withhold its very first quarterly aid payment in three months' time
The report also makes clear that if Greece falls off the wagon in any way, the IMF is not going to pick up the tab any more. Instead, it will either be up to Athens to restructure its debt yet again or for eurozone lenders to put up even more money.

The report seems to give a very strong hint that the fund wants European Union leaders to prepare for that eventuality very quickly.
---
U.S. Treasury Secretary Timothy Geithner:
Europe's actions so far have averted potential financial catastrophe
but said it still must put up a sturdier firewall against contagion.
CNBC 26/2 2012
"A durable solution requires both a sustained period of economic reform and a substantial financial firewall to support those reforms," he told a press conference at the conclusion of a Group of 20 finance ministers' and central bankers' meeting.
---
Injecting Cash - Europe's Banks Are Addicted to ECB's Cheap Money
ECB will give European banks another massive round of loans at bargain-basement rates on Tuesday,
with financial institutions expected to borrow up to one trillion euros at 1.0 percent.
Der Spiegel 27/2 2012
---
G20-länderna kommer inte att skjuta till mer pengar förrän eurozonen själv gjort mer
Euroländerna håller på att bygga upp en ny räddningsfond som ska innehålla 500 miljarder euro.
Det är alldeles för lite, hävdar länderna utanför Europa, brandväggen måste byggas högre
Ekot 27 februari 2012
Det är framför allt Tyskland som hittills vägrat att sätta in mer pengar i eurozonens räddningsfond. Även i går framhärdade den tyske finansministern med att det inte behövs. Han tycktes dock lämna en liten öppning för att Tyskland skulle kunna ändra sig innan nästa G20-möte i april.
Schäuble's duplicity on ESM enlargement: He says Yes in private, No in public
Eurointelligence Daily Briefing 27/2 2012
This is how Wolfgang Schäuble has been running the eurozone crisis all along. He proceeds with conflicting messages.
The German public seems under the impression that Angela Merkel's rejection of an increase in the ESM would hold, but there are already signs that the German resistance to an enlarged ESM is weakening. T
The dangerous subversion of Germany's democracy
Markets appear to be acting on the firm belief that Germany's finance minister Wolfgang Schäuble is lying to lawmakers
Ambrose Evans-Pritchard, September 28th, 2011
Very Important Article
---
Germany Isolated over Resistance to Expanding Euro Bailout
Der Spiegel, 23 februari 2012
The European Commission, the European Union's executive in Brussels, is also arguing for an expansion of the ESM. "There is a clear need to further strengthen the euro area financial firewalls in order to equip Europe to contain the contagion and counter speculative pressures," Currency and Monetary Affairs Commissioner Olli Rehn said on Thursday.
Both the International Monetary Fund (IMF) and the Netherlands have increased pressure for the EFSF money to be carried over into the new fund -- a particular blow for Germany given that the Dutch have been among the most conservative of the euro-zone member states when it comes to providing bailout funds for Greece. Finland, another critic of Greek aid, has also signalled its support according to media reports.
*
Germany's ruling parties are to introduce a resolution in parliament blocking any further boost to the EU's bail-out machinery,
vastly complicating Greece's rescue package and risking a major clash with the International Monetary Fund.
Ambrose Evans-Pritchard, and Louise Armitstead 23 Feb 2012
---
G20 must protect the IMF from Europe

At this weekend's G20 meeting European countries are likely to
press for an increase in the IMF's resources as a means to bolster the firewalls
Mohamed El-Erian, Financial Times February 24, 2012
At this weekend's G20 meeting, European countries are likely to press for an increase in the International Monetary Fund's resources as a means to bolster the firewalls against the eurozone debt crisis. The other G20 members must resist such pressure until Europe starts showing more signs that it's getting its act together.
It should come as no surprise that over the last couple of years Europe has pressed the IMF very hard to make exception after exception - and it has succeeded. This has resulted in a number of firsts by an organisation that prided itself on the "uniformity of treatment" for member countries.
Preserve and Protect
Each president recites the following oath, in accordance with Article II, Section I of the U.S. Constitution:
"I do solemnly swear (or affirm) that I will faithfully execute the office of President of the United States,
and will to the best of my ability, preserve, protect and defend the Constitution of the United States."
---
Germany has said that it sees no need to increase the size of Europe's
permanent bailout fund, the European Stability Mechanism (ESM):
Daily Telegraph 22 February, 11:32
Spokesman Steffen Seibert told reporters:
The German government's position has not changed -- that means no, it is not necessary... more
---
Lagarde repeated her calls for an increase in the size of the permanent euro backstop fund,
the European Stability Mechanism (ESM), which is due to come into operation in mid-2012,
as a precondition for a significant contribution by the fund
Der Spiegel, 21 February 2012
The IMF had provided 30 percent of the first €110 billion bailout for Greece, agreed upon in May 2010, but reportedly wants to reduce the size of its contribution this time around.
---
IMF is considering contributing just 13 billion euro to the latest Greek bailout package
10 percent of the 130 billion euro second bailout package under consideration for Greece.
The IMF funded 30 billion euro of the first Greek bailout, about 27 percent of its 110 billion euro
Globalpost 17 Febr 2012
---
IMF
ska få en resursförstärkning. Euroländerna liksom Sverige är beredda att bidra. Men på andra håll har intresset att ställa upp hittills varit svalt.
Johan Schück, DN Ekonomi 3 februari 2012
---
The IMF is no longer serving its purpose
To save the eurozone, the International Monetary Fund needs to dispense tough love, not endless bail-outs.
Jeremy Warner, Daily Telegraph, 19 Jan 2012
The IMF's purpose is to instill the "right" economic policies in countries so that they can become competitive, and when things go awry, to provide the stop-gap finance and policies that get them back on their feet.

In addressing the European debt crisis, it has veered dangerously from this mission. Support seems directed more at sustaining the single currency than helping individual nations out of their difficulties. This is leading to the now routine prescription of inappropriate policy – repeated rounds of fiscal austerity with none of the compensating support of monetary stimulus and devaluation that countries such as Britain, with their own sovereign currencies, have been able to apply. The IMF has thereby become complicit in making a bad situation much worse.
In a recent analysis of developments in Greece, the IMF virtually admitted as much, describing with eloquence how fiscal austerity had become self-defeating by undermining all hope of economic growth.

Yet in defiance of its own evidence, the organisation concluded that the programme remained on track.
---
Euroländernas genidrag att deponera 200 miljarder euro i IMFs kassaskåp för att kunna begära nödlån ur det,
istället för att skramla ihop internt och då riskera långa parlamentsdebatter och medborgarilska,
ser ut att vara lättare sagt än gjort.
Teresa Küchler, SvD Näringsliv, 23 december 2011
Med IMF-lösningen tänkte man också ta sig runt politiska och lagtekniska hinder i länder som Tyskland, vars författningsdomstol gjort klart att det nu öppet betalningströtta parlamentet i Berlin måste ge klartecken till varje nytt lån.
Den brittiske premiärministern David Cameron sade i parlamentet i London att IMF var till för att rädda länder, och inte valutor.
Den tyska regeringen, som enligt måndagsmötets slutprotokoll gick med på att bidra med hela 41,5 miljarder till IMF, måste få Bundesdagens godkännande, vilket kan bli svårt.
---
Why should the members of the IMF finance Italy when German savers pull out and the German government
does not want the ECB to come to the rescue of a fellow member of the common currency area?
The US administration has already ruled out any American contribution because it would not pass Congress.
Daniel Gros, director of the Centre for European Policy Studies, 22.12 2011
This leaves the emerging markets as the only remaining source of funds. They, meaning China
---
I senaste numret av Nyliberalen skriver jag om ekonomerna som förutspådde eurokrisen.
Och då menar jag inte alla de ekonomer som rent allmänt trodde att det skulle gå åt h-e, utan de som faktiskt förutspådde hur det skulle gå åt h-e.
Italien har lovat att låna ut 22,5 miljarder euro till IMF så att IMF ska kunna rädda ... Italien.
Och Spanien bidrar med 15 miljarder euro för att rädda ... Spanien.
Mattias Lundbäck, 19 December 2011
Början på sidan
---
"at least €1 trillion is necessary to stabilize the euro"
European leaders last week agreed to outfit the International Monetary Fund with 200 billion euros But Germany's central bank has its doubts:
Some heavyweight countries are balking, and it also increases risks for German taxpayers.
Der Spiegel, 16 december 2011
The agreement on the €200 billion IMF fund is essentially an admission that the current euro bailout fund, the European Financial Security Facility (EFSF), is likely not large enough to handle Italy's -- or even Spain's -- refinancing needs should they run into trouble.
Plans are afoot to leverage the EFSF, but the fund's spending power is likely to max out at €750 billion.
The current consensus, voiced most recently by European Central Bank governing council member Klaas Knot, holds however that
at least €1 trillion is necessary to stabilize the euro.
Kommentar av Rolf Englund:
Jag tror att en trillion euros är 1000 miljarder euro.
Om en euro är 9 kr är en trillion euros lika med 9.000 miljarder kronor.
Mycket pengar för ett, misslyckat, experiment.
---
Ms Lagarde was always the wrong choice as managing director of the IMF, if only because she is neither impartial nor particularly well qualified for the job.
She's a European cuckoo in the nest, and therefore as incapable of seeing what needs to be done as the rest of the eurozone policy elite. Indeed, I've yet to see any evidence that she properly comprehends the economics of the eurozone sovereign debt crisis.
To Ms Lagarde, saving the euro and saving the world economy are one and the same thing. They are not.
Jeremy Warner, December 16th, 2011
---
Sverige är berett att bidra med upp till 100 miljarder kronor till krishanteringen i EU via IMF.
Ekot 15 december 2011
---
EU-länderna ska skjuta till 200 miljarder euro till IMF.
Det är nästan 2.000 miljarder kronor.
Det är väl generöst av stater i kris?
Detta är bakgrunden.
Rolf Englund blog 10 december 2011
---
The long shadow of the 1930s
Could things go bad again?
I mean really bad – Great Depression bad, world war bad?
The kind of cataclysmic event my generation has learned to think belongs only in the history books.
Gideon Rachman, Financial Times, November 28, 2011
---
If I had to give a snap judgment on the embryonic plan to "save the euro",
I would say it is deflationary in the short term and inflationary in the long term
If the Republicans do well in the 2012 US elections, the stage will be set for a repetition of
many of the economic errors of the 1930s, when countries tried to fight depression with cuts of all kinds.
Samuel Brittan, 15 December 2011
---