European Union summit in Laeken
European Council of Laeken: Presidency Conclusions
EU Observer about future of Europe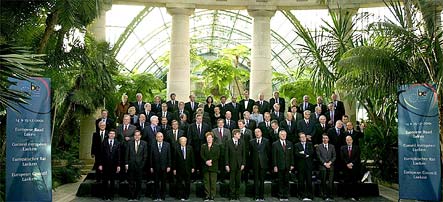 Carl Bildts veckobrev v51/2001 om Laeken
En deklaration blev det /i Laeken/. Lite mångordigt som dokument av denna karaktär brukar bli. Men den blev i alla fall ett betydelsefullt dokument i två viktiga avseenden.
För det första för att den gjorde rent hus med alla begränsningar för vilka frågeställningar som den kommande processen skall ta sig an. För inte så länge sedan hade bl a den svenska regeringen gjort sitt bästa för att inskränka mandatet, och bidragit till att detta också var den dominerande linjen, men av detta finns nu ingenting alls kvar. Laeken-deklarationen öppnar alla frågor om de framtida europeiska strukturerna.
Och för det andra blev den betydelsefull för att man mitt inne i dokumentet plötsligt börjar använda ordet "författning". Först lindas det in en del, men sedan står det plötsligt där alldeles för sig själv och med betydande kraft. Begreppet "författning" har, mig veterligt, aldrig tidigare förekommit i officiella europeiska texter som denna. Att Europarlamentet talat i dessa termer, och att kommissionen snuddat vid dessa tankegångar är en sak, men det blir någonting helt annat när plötsligt de femton stats- och regeringscheferna börjar använda ordet "författning" i en diskussion om det som den kommande regeringskonferensen kommer att ägna sig åt. Jag har svårt att se annat än att Laeken-deklarationen innebar att en principiellt viktig punkt i det europeiska framtidsarbetet passerades. Hur Göran Persson ställde sig till denna fråga vet jag inte, men det minsta som kan sägas är att det varit svårt att ur hans tidigare uttalanden kring dessa frågor utläsa någon större entusiasm för en utveckling i denna riktning.
Jag vill hoppas att det faktum att detta begrepp nu accepterades innebar en faktisk framflyttning av också den svenska regeringens positioner i denna fråga. Och att man därmed fullt ut inser att vi befinner oss i en federation av nationalstater som för både legitimiteten och effektiviteten i sitt samarbete behöver någon form av författningstext.
---
The Economist about Laken Dec 17th 2001
The "Laeken declaration" on the political future of Europe, issued at the summit, has set the agenda for a European constitutional convention which will get to work next March. The convention, with around 100 delegates, will draw up constitutional proposals which will then be considered by the heads of government of the EU in late 2003 or 2004. The idea is that, by having a constitutional convention that conducts debates in public for over a year, this latest round of European constitutional development will command an extra coherence and legitimacy.
Although it will be up to the convention–and then national leaders–ultimately to decide on the new political direction of Europe, the battle-lines are already becoming clear. There will be a strong camp of federalists pushing for "ever-closer union" on a range of fields from foreign policy to taxation to the direct election of a European president. There will also be "nation-statists" who will try to use the convention to limit, and perhaps even to cut back, the powers of the EU.
Both camps could draw some comfort from the declaration agreed at Laeken. The British, traditionally wary of ceding more power to the EU, were delighted that it contained a warning against creating a "European superstate" and also spoke explicitly of the possibility of repatriating powers from the EU back to nation-states. But the Belgian hosts of the summit—who are traditionally keen federalists—clearly felt that the declaration had moved the debate their way. Guy Verhofstadt, the Belgian prime minister, said that several "taboos" about future European development had been broken by the Laeken declaration and that important issues were now on the table—for example, direct election of a European president, explicit mention of a European constitution, and the use of a legally-enforceable charter of fundamental rights as the basis for such a constitution.
The structure of the convention is likely to favour the integrationists. Its chairman will be Valéry Giscard d'Estaing, a 75-year-old former president of France, who has traditionally been a keen supporter of the "community method"—EU-speak for giving more powers to the European Commission in Brussels, and reducing the powers of nation-states to veto EU decisions. Mr Giscard d'Estaing's two deputies—Giuliano Amato, a former Italian prime minister and Jean-Luc Dehaene, a former prime minister of Belgium—are also known to be keen federalists.
Both men recently signed a "wake-up call for Europe", written by Jacques Delors, a former commission president, which called for much closer political union in Europe. The convention will only propose "options" for reform. But the fact that it will indicate which options commanded most support is likely to mean that it produces a strikingly federalist document.
---
EU-toppmötet öppnar för EU-stat
Ledarkommentar av Yngve Sunesson i
Östersunds-Posten 17/12 2001
(RE: Utmärkt sammanfattning)
Pensionat Paradiset
Laeken
Ledare i Finanstidningen 2001-12-18
Vad hade ni väntat er? Den som ger sig in i Laeken får Laeken tåla. EU-toppmötet i helgen var ingen fars. Det var bara ännu en akt i en långkörare.
Det blev inget beslut om myndigheterna. I skydd av kacklet kring kalvsyltan kunde man däremot åstadkomma något med den viktigaste punkten på agendan i Laeken. Utan större debatt så fick de som ska utforma planerna för EU:s framtid mycket fria händer att kladda med.
EU:s framtidsfrågor, hur samarbetet ska fungera i framtiden, ska besvaras av ett konvent som leds av den 75-årige franske expredienten Valery Giscard d'Estaing, sekunderad av två före detta premiärministrar - Italiens Guiliano Amato och Belgiens Jean Luc Dehaene. Frankrike, Italien och Belgien.
Det är samma tre länder som hade huvudrollerna i tumultet vid frukostbordet. Samma tre länder som allra gladast hälsar att konventet som ska diskutera EU:s framtid har fått fria tyglar att följa upp de mest federala idéer om EU:s utveckling.
Är det inte egendomligt att de länder som mest skamlöst hävdar sina nationella intressen i hög grad också är de länder som starkast driver på för överstatlighet och mot ett Europas förenta stater? Och vad säger det om hur EU som förbundsstat kommer att fungera?
EU:s politiskt mest drivna federaster har en dold agenda. Ett politiskt projekt som rymmer fler intressen än det gemensamma bästa. I fransk håg är ett federalt EU ett franskt EU. Fler pipor och mäktigare bröl åt en organisation man spelar som en orgel. Allons enfant de la patrie, le jour de gloire est arrivé! Federasternas motiv byter skepnad från land till land. Men en sak är gemensam. Unionen ska användas i egen sak. Belgien, till exempel, ser landets betydelse växa med Bryssels.
Intressekonflikterna upphör inte med överstatlighet och federalism.
Ju mer omfattande och detaljerat sammarbetet blir, desto fler blir konflikterna och insatserna blir högre. Och slagsmålet kring helgens smörgåsbord visar hur bra man är på att hantera dem.
---
EU prepares major reform
BBC, 15 December, 2001, 19:20 GMT
They appointed the former French President Valery Giscard d'Estaing as its president, and two former prime ministers, Giuliano Amato of Italy and Jean-Luc Dehaene of Belgium, as vice-presidents.
The declaration says that the EU stands "at a crossroads, a defining moment in its existence", as it prepares to admit 10 new members in 2004, and to play a bigger role in world affairs.
---
Nej till superfederalismen i EU
SvD-ledare 2001-12-14
Federalisterna dominerar EU-toppmötet
Huvudledare i Östersunds-Posten 13 december 2001 av Håkan Larsson
Romano Prodi varnar inför toppmötet i Laeken:
"Trångsynthet kan förlama EU"
DN Debatt 2001-12-14
Europe's new shape
Dec 13th 2001 From The Economist
Aside from procedures and personnel, the Laeken summit should see EU leaders begin to grapple with the big issues of how to reform the EU. Given the range of opinions, no one can foretell the outcome of the debate, or the constitutional convention.
The ambitions of those keenest to bring European countries ever more tightly together are apparent in a "draft declaration" circulated by Guy Verhofstadt, Belgium's prime minister and the summit's host. His letter poses a series of questions. But a disgruntled Scandinavian diplomat says it is "clearly written by someone with a blueprint for a full-fledged federal state in mind". It floats ideas for creating a "European political area", such as directly electing the European Commission's president and giving more powers to the European Parliament and to the commission.
---
Göran Persson om Laeken
SvD/TT 2001-12-12
- Jag vill ha en stark närvaro från de nationella parlamenten i konventet. Två parlamentariker från varje land är för lite, sade Persson.
Det var tydligt att Persson var kritisk till många av de belgiska förslagen. Bland annat föreslås direktval till posten som EU-kommissionens ordförande, överförande av makt från nationella regeringar till unionen samt införande av majoritetsomröstning i fler EU-frågor.
- Frågorna för framtiden bör vara ömsesidiga, öppna och uppmuntra till en öppen debatt. De kan inte från början ha de typ av svar vi förväntar oss. Vi vill ha en riktig, öppen och generös debatt om framtiden, sade Persson.
---
Ur Carl Bildts veckobrev v50/2001 den 11 december 2001
Fokus för diskussionerna i Laeken kommer att ligga på det s k konvent som skall diskutera en ny författning för den Europeiska Unionen inför den s k regeringskonferens som med all sannolikhet kommer att äga rum under 2004.
Man skall anta en deklaration om inriktningen för detta arbeta, och man skall avgöra vem som skall leda det Det handlar om en författningskonferens för det framtida Europa, även om själva begreppet för somliga är kontroversiellt.
---
The future of Europe - Democracy in Danger Brussels
Counter Summit 14 December 2001 A one-day conference in Brussels for the ordinary citizens of Europe hosted by SOS Democracy, a cross-political group of members of the European Parliament.
---
Belgian-led EU reform plan faces hostility
By Peter Norman in Brussels
FT, November 30 2001 21:06
Belgian proposals to map out a radical agenda for the future of Europe at this month's European Union summit in Laeken have run into strong opposition from other EU member states which feel they go too far towards a federal European state.
The proposals, drawn up by Guy Verhofstadt, the Belgian prime minister and current holder of the EU presidency, received a cool reception in London and Copenhagen this week, and were dismissed as overambitious and unbalanced by Jacques Chirac, the French president, after talks this week with Tony Blair, the UK prime minister.
Mr Verhofstadt, an enthusiastic supporter of greater European integration, is one third of the way through a tour of EU capitals seeking support for a draft declaration on "the future of the European Union" to be agreed at the December 14-15 summit in the Belgian royal palace of Laeken, Brussels.
---